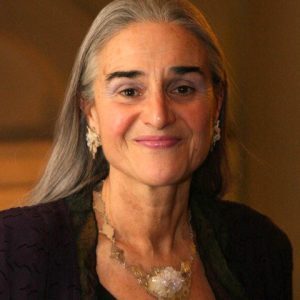 Michele White
My Story
"My career as a designer jeweller happened purely by chance, and can be totally blamed on our Persian cat Crystal!"
My first career was as an art teacher, with a focus on ceramics. I took a career break when my first child was born and subsequently had two more children. When I wanted to start work again, I decided teaching ceramics wasn't for me. By that time, Crystal had been a member of the family for about ten years, and as I combed her long white hair every day, I had bags full of the stuff. Since my childhood I have been an avid knitter, so the solution was obvious - spinning and weaving.
By the time I had queued for an hour to enrol in a spinning evening class, I was told that the classes only happened during the day. Scanning the list, my eyes alighted upon a jewellery class... so that was it!
After progressing through that class, I transferred to the School Of Jewellery in Birmingham. Born and bred in London, I was ignorant of the history and importance of jewellery in Birmingham - so again it was serendipity.
Design works the same whether it is ceramics or jewellery; the medium defines the way the design develops. Early on I went to an exhibition of the jeweller Renee Lalique. I loved his work  - it doesn't matter what material or gemstones he used, they always enhance the beauty of his art. This truly inspired me. A subtle Art Nouveau style can often be found in my work. I also love to use gemstones that stand out from the ordinary; those with an interesting inclusion or unusual cut, and these are often the creative impetus for the way the piece develops.
So, thanks to our Persian cat and the genius of Lalique, I am now a jeweller who absolutely adores her occupation.
Royal Birmingham Society of Artists
"I have been a member of the Royal Birmingham Society of Artists for some years and in 2000 the Gallery moved from the city centre to the Jewellery Quarter.
HRH Prince Charles (now King Charles) came to open the new gallery. I was asked to make a stock pin as a presentation for him and was one of the members chosen to be presented to him."